AMERICAN SPIRIT-Not just surviving but prevailing!
UPDATE 6/30/23: The six reputedly conservative Supreme Court justices were apparently feeling brave as a group this week, voting in sync against the female trio of Affirmative Action Leftists on a trio of  key cases.
Justice Gorsuch has nicely taken apart Justice Sotomayor's hare-brained opinion that a graphic designer in Colorado should be forced to take on gay wedding clients against her will. Since when in a free society is an individual not allowed to say, "No, thanks. Please take your business elsewhere"?
In response to the Court's Affirmative Action decision, the two Black Justices on the Court issued diametrically opposed statements that clearly illuminate the debate. While (Democrat) Jackson speaks for Obama's relentless infusion of race and permanent division into American life, (Republican) Thomas reiterates (Republican) MLK's dream of a color-blind society,  giving preference to individuals based on their competence and character,  not on their race or sex. Predictably, attaining equality both legal and actual, then moving on is not enough for those like Jackson whom (Republican) Booker T. Washington described in "Up From Slavery" more than a century ago: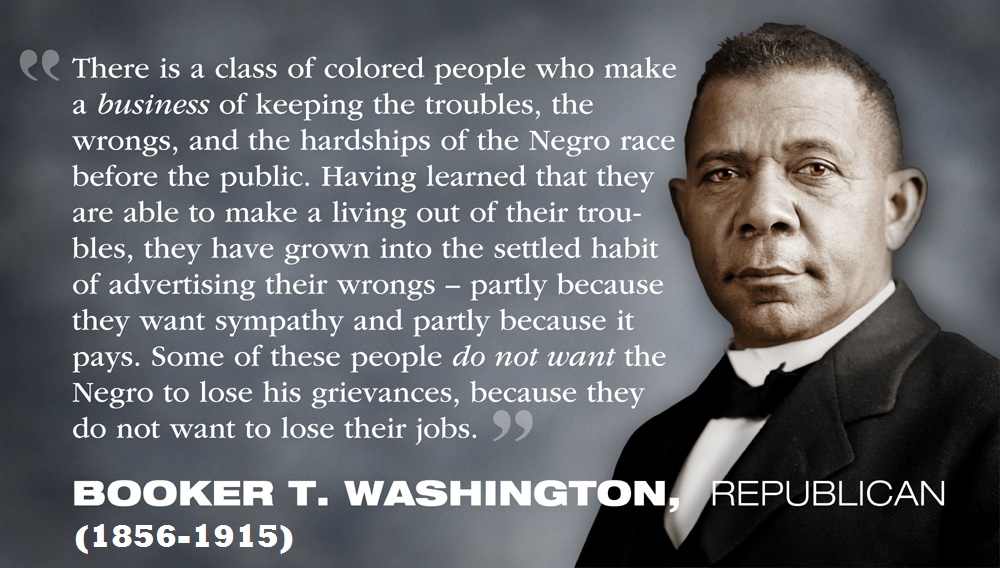 Completing the good news is the Court decision striking down  Biden's proposed across-the-board Student Loan Forgiveness. Even quoting Pelosi, the Court has reminded Joe it's not in his or any President's power to promise such things to voters he hopes to bribe.
In junking the latter two giveaway schemes hatched to buy votes for the Dem Party, the Court may have just reduced both the current and projected federal deficits. Win/Win! And in answer to those on the Left, America HAS by necessity become a colorblind society, despite the best efforts of those social termites of the race grievance industry from Obama on down. Allow us to bring up the established wisdom of getting the best pilot to fly the plane, not necessarily a Black, female or one-legged one.
Speaking of which, this presents an awkward optic for those tokens clearly hired based on their intersectional race/gender/intractable Leftism like Sonia, Ketanji, Karine, Kamala and up-and-coming DEI enthusiasts hoping to follow in those unduly privileged footsteps. Bottom line: our entire society is better off when competence and character matter, not political fashions of the day.
UPDATE 6/30/23: Who'd have predicted a Kennedy leaping to the forefront of electoral politics as a wild card, a maverick outsider? A Kennedy? An outsider? Is he so clever that he's really a Trojan horse, a garden-variety Kennedy Dem masquerading as  Trump populist? The full force of hatred and suppression he's inspired leads one to believe he's authentic. Whatever he might be, RFK, Jr. is adding something valuable to serious discourse in these crazy times.
The MSM thinks he's scary enough to link him to MAGA.  
MAKE AMERICA ACCOUNTABLE AGAIN (OPENTHEBOOKS.COM)
(In search of) AN AMERICAN MARGARET THATCHER 
ELECTION FRAUD-America In The Balance
JANUARY 6-Tyranny vs A Nation of a Trillion Sparks
PLANNED PARENTHOOD/SELLING ABORTED BABY BODY PARTS
MEMORIAL DAY AND D-DAY
CALIFORNICATION/DETROITING OF AMERICA
UPDATE 6/30/23: There is no greater hope for the future than allowing the young to be educated in the basics, exposed to the greatness of Western Civ, then sent out fully armed to compete in this world.
This is what the future is up against. 
CLASSLESS, GENDERLESS, RACELESS, FAITHLESS-Erasing all defining lines
UPDATE 6/29/23: Leading American Sinologist Gordon Chang paints a dismal picture of a Chinese invasion already well underway in America. There are thousands of trained terrorists who have been allowed to walk in unimpeded, now ready to carry out major sabotage of communication and power networks upon command from their bosses in Beijing. The original, cynical subtitle of this long-running post has been "Told ya so." God willing, we can dodge the dreaded moment when pessimistic prophecy becomes reality.
CORONACRAZED/MEDICINE COMPROMISED
UPDATE 6/29/23: Few things are bound to impact the masses more negatively than Woke medicine. What authority or trust can one grant a doctor who thinks a man can be a woman  or that it's a child's right to choose his/her own mutilation via "gender-affirming care?"
Depicts an Indian, but it could as accurately be a doctor in his white scrubs grinding up an ignorant, gullible public.
UPDATE 6/29/23: Comedy is back when Dana Carvey and David Spade can make instant, long overdue mincemeat of Hollywood Superhero Fauci. And for precisely the right reasons.
MEDICAL HELP FROM  
     FRONT LINE COVID-19 CRITICAL CARE (FLCCC) ALIANCE
ASSOCIATION OF AMERICAN PHYSICIANS AND SURGEONS (AAPS) 
UPDATE 6/25/23: Banished from consideration and branded as "misinformation," Ivermectin is considered a miracle drug by reputable doctors actually practicing medicine on real patients unlike political operative/profiteer/grifting bureaucrat Fauci. This drug's discoverers won the Nobel Prize in 2015 for its benefits to humans suffering from malaria and other parasite-related maladies,  not merely a "horse de-wormer" as derogated by those in government and the media connected to Big Pharma and its billions of dollars in "vaccine" revenue. In the case of Covid, a sane response would have been to encourage experienced doctors and scientists to try every and anything and allow real results to be made public. When politics and profits take precedence over science, we have the social and medical devastation of the Covid response.
THE TRANSGENDERING/OMNISEXUALIZING OF AMERICA
UPDATE 6/30/23: In the face of the all-out assault on truth and our way of life, one is paralyzed by indecision. Which fight to take on, which hill to die on? For most of us, it's simply recognizing the truth and telling it whenever, wherever, however possible. Once we cave and let Big Lies and the mountain of absurdities go unchallenged, there is nothing standing between us and self-immolation.
UPDATE 6/30/23: Good, enlightening times with General Florg. Comedy strikes another blow. No wonder the Woke New Puritans hate humor and reflexively ban it.
SUPREMES-Different faces, still a Leftist Weird Sister act
WAR & PEACE: LENIN'S (and fellow Socialist HITLER'S) HEIRS
ORWELL-OBJECTIVE REALITY/TRUTH
UPDATE 6/29/23: There is no more effective way to destroy and control a society than hijacking its language, re-defining words and concepts at will, rendering them meaningless. War is peace, up is down, day is night, black is white and men can give birth.
THE GREAT RESET-The Clocks are striking 13? Can you live with this?
UPDATE 6/28/23: In case there's any doubt about the sinister designs of Klaus Schwab and his WEF, he's most currently on record extolling the virtues of Communist China, totally ga-ga about the ChiCom Premier's "vision." No doubt there are those with their heads firmly implanted in sand or up their backsides who think that's a very good model for the ideal society.
THE POLITICS OF DEPENDENCY (and INDEPENDENCE)
GREEN MONSTER-Environmental Tyranny
UPDATE 6/30/23: Are Americans, New Yorkers specifically, so marinated in the "Climate Change" Kool-Aid that they're willing to give up pizza to save the planet? This way to Wonderland, please.
Who'd have dreamed? 
ID/WOKE POLITICS, Obama's Permanent Civil War of Transformation
UPDATE 6/30/23: The great "post-racial" POTUS remains actively devoted to permanent civil war, most currently calling for Black "reparations" lest we forget we're forever a racist nation. Does being half-white cut Barack's "fair share" in half? Any comment from him about  shelling out equal amounts to the descendants of Irish convicts sold off and arriving in America as slaves in the 17th century? Or, being a conscientious citizen of the world, some serious dough to relatives of those 6 million exterminated Jews in Europe?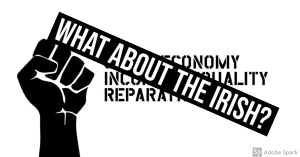 I'M A VICTIM! YOU'RE A VICTIM! EVERYBODY'S A VICTIM!
IAVT-I'M A VICTIM TOO! (Successful Black division)
BLACK LIVES MATTER…but only selectively to the race baiters.
ILLEGAL IMMIGRATION/ OPEN BORDERS-Creating a Permanent Democratic UniParty Majority
AMERICAN JEWRY-Brightest & Dumbest People On Earth
JEXODUS-Sensible Jews leaving the Dem Party
THE LIBERAL MIND and THE DEMOCRATIC PARTY OF PROJECTION
UPDATE 6/30/23:  RFK, Jr. has become a figure of interest to the serious-minded transcending political parties because he insists on seeking out and telling the truth. It also has made him a serious target for powerful forces invested in those lies Kennedy is determined to expose.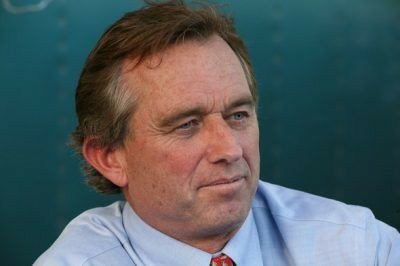 UPDATE 6/29/23: Will there ever be any full, fair investigation of this crime family? At what point will the public stop accepting the excuses and total fabrications about these low-lifes? A father who loves his son too much? Quite the opposite. A father willing to use his own sons for political and financial gain.
UPDATE 6/25/23: The term "crime FAMILY" couldn't be more apt in the case of clan Biden considering the number of Joe's closest relatives raking in millions from foreign pay-for-players.
Mollie Hemingway, tongue firmly in cheek tweets, "The Biden family could take care of all of this so easily if they would just explain why every single member of the family, except for the unacknowledged granddaughter, was receiving millions of dollars in their bank accounts from oligarchs all over the world." Naturally, leading moral forces and trustworthy social arbiters like Whoopi Goldberg think we should just "shut up!" about Hunter's laptop. She's "sick of it."
CLINTON (The Thing That Wouldn't Leave)
FAUCI and the curse of the "EXPERTS"
UPDATE 6/27/23: It was inevitable that the eminent fraud Fauci would have an eager host of successors, railing against any truthful account of Covid/Vaccines/Masks/Medical Tyranny. Among this foul flock is one male hysteric/publicity whore named Peter Hotez, impersonating Fauci but sporting his own distinctive bowtie, refusing 7 figure$ from Joe Rogan to debate RFK, Jr but giddily calling Kennedy and presumably anyone offering an alternative viewpoint…what else?…"fascists." And "shirtless Putins." Why take Rogan's chicken feed when this medical demagogue hopes to reap celebrity, power and, yes, serious money like his role model Fauci? There is also the high likelihood of being exposed & mopped up debating RFK, Jr. or anyone solidly grounded in facts.
In the great tradition of Vesalius, Pasteur, Semmelweiss,  Jenner, Ehrlich, Fleming, Salk…
UPDATE 6/29/23: Finally, finally, finally Meghan and Harry have fallen below that line below which even the most gullible fool might find them interesting or worthy of any attention. One astute epitaph claims it's because Americans don't identify with lazy, useless socialites. Perhaps it's also because they are liars, cheats, homewreckers, selfish, soggy with self-absorption that would make the wettest sponge jealous. They are low-class grifters and yes, entitled snobs who, like so many of those Leftward-leaning types claiming great philanthropic motives, actually care not a jot about anyone who can't pay them big bucks or boundless admiration. They will only continue to be interesting to watch as their joint marriage/enterprise/boondoggle comes apart at the seams, and the morally balanced breathe a sigh of relief that at least some phonies and bad actors these days are suffering a little "karma."  
UPDATE 6/28/23: Daniel Greenfield, commenting on the latest Soros family drama of succession, pinpoints the pervasive rot at the heart of the Soros "dynasty" which is really more a collection of rich, self-hating, empty zombies masquerading as human. The core rot and zombie-in-chief is, of course, George himself, now approaching Final Judgment. The latest chapter in the saga is the much-publicized move of handing over the empire by default to the weak, pitiful third son Alex, just a futile last gasp of a fading megalomaniac pretending that his life's work of destruction is immortal.
Geek and Freak. Milquetoast and Monster. A dynasty destined to last another thousand years. Or maybe not.
SUPREMES-Different faces, still a Leftist Weird Sister act