The American Spirit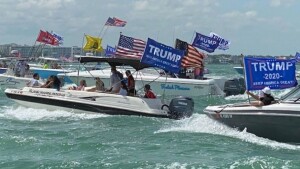 UPDATE 10/11/20: A Trump caravan of 30,000 cars in Latino, anti-communist FLA! The heart leaps.
UPDATE 10/6/20: The flotillas, the parades, the unfettered display of American Spirit continues apace, even in De Blasio's deep blue Manhattan. This is movement, free healthy life, the alternative to the chains of our opponents' dark vision of a SafeNewWorld. If politics is about  permitting the best of humanity to thrive, bring it on.
ORIGINAL POST 10/4/20: Leading up to any election (this election in particular), tensions rise, tempers flare, nasty accusations fly, and with what are we left? Hopefully, at the end, a country where individuals can still walk around and pretty much do as they please, commune with whom they please, buy what they need, staying out of each other's way and living out dreams, however grand or modest. This is indeed a vast rightwing conspiracy, but not the one of which Hillary spoke: it's called American liberty.
Do both Parties offer that vision? One vision is dominated by a fanatic zeal for centralized control, correcting/rewriting our history right down to its founding roots, revolution, a fantasized righting of all wrongs, equalizing all inequities. Perfection! Utopia! The other vision offers the risky uncertainty of freedom, laissez-faire, letting things and people be what and who they are.
The latter has yielded a society of limitless opportunity, vitality, creativity, diversity, progress, wealth, prosperity for those willing to take things into their own hands. The former has always ended badly: yet one more failed socialist/communist regime pumped up on empty promises and collapsing as the free human spirit is crushed out in service to The Collective, The Big Lie, The Great Terror. Shared Misery For All!
There is AOC/Bernie/Hillary/Obama/Sleepy Joe's America, and there is Trump's America, a stark choice growing ever more defined as things heat up. One is the America of angry, enslaved souls, hating our nation as it fundamentally is, shaking an impotent fist at the sky, waiting for rescue by The State/Big Brother. Never satisfied, never content. More! More! More! Gimme! Gimme! Gimme! The Sixties brats have not grown up or wiser, only older.
The other is the free human spirit, chin set, sleeves rolled-up, defenses at the ready as it goes on the offensive, takes on the world, makes dreams real, overcomes obstacles, enjoys the fruits of its labors, beholden ultimately only to that God dwelling within all people.
In a matter of weeks, we shall see if there is indeed a heretofore silent, growing majority made up of people of all backgrounds, classes and colors who prefer freedom as expressed by the MAGA car parades, boat flotillas, waving, cheering roadside crowds…to the depressing doomsayers and Trump haters.  The confirmed haters will never change and will only exchange their objects of contempt and loathing for new ones down the line. They have no positive vision, only resentment and bitterness that can never abate. Families and friendships have suffered because of them; we are a house deliberately divided.
There are, blessedly, tens of millions imbued with the American spirit, including perhaps even those most blindly committed Trump haters whose own rational self-interest will prevail over the poison pumped daily into their systems by the MSM and its sinister comrades in high places. If so, the America we love with all its true diversity can go on.