AMERICAN SPIRIT-Not just surviving but prevailing!
UPDATE 6/22/23: Nothing is forever, including great empires and nations. God willing we baby boomers who grew up in history's greatest nation during one of its greatest eras are granted a reprieve in our lifetimes from what we are told is inevitable decline and fall. For us, MAGA is more than a catchy political slogan, and living well as staunch Americans remains the best revenge against the naysayers.
Proof through the night that the flag is still there. 
MAKE AMERICA ACCOUNTABLE AGAIN (OPENTHEBOOKS.COM)
(In search of) AN AMERICAN MARGARET THATCHER 
ELECTION FRAUD-America In The Balance
JANUARY 6-Tyranny vs A Nation of a Trillion Sparks
PLANNED PARENTHOOD/SELLING ABORTED BABY BODY PARTS
MEMORIAL DAY AND D-DAY
CALIFORNICATION/DETROITING OF AMERICA
UPDATE 6/22/23: The evil hand of Soros determined to undermine American law enforcement is nowhere more evident than San Francisco, once the most striking, most beautiful American city. Crime-weary Friscans have booted George's radical DA operative Boudin, but it's late in the game to undo the damage done.
UPDATE 6/18/23: Andrew Lloyd Webber has just been notified that he, being British, is forbidden from writing about anything except things British. Cultural appropriation, you know.  Had the new Puritans gotten to him a few decades earlier, he could have saved the time & trouble and totally exonerated himself for writing about things Argentine ("Evita"), things French ("Phantom"), things Middle Eastern ("Joseph," "Jesus Christ Superstar"), things American ("Sunset Boulevard"); any and all things absurdly disallowed by the self-appointed totalitarians driving our lives and culture at large into the grave. He correctly describes this surreal, virtue-signaling gesture as "the death of art."
Permanent civil war, inspired by the neo-racist Obama agenda, is the overriding Wokester goal, "cultural appropriation" being just one more way to keep us ceaselessly at each other's throats. 
CLASSLESS, GENDERLESS, RACELESS, FAITHLESS-Erasing all defining lines
UPDATE 6/20/23: Biden's treasonous Secretary of State has declared, " "We do not support Taiwan independence." Is this not an invitation, a flashing green light for Chinese invasion and destined to be the first real domino to fall in ChiCom world conquest?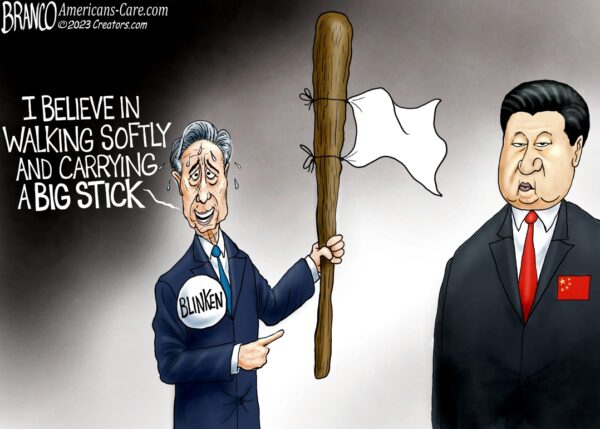 CORONACRAZED/MEDICINE COMPROMISED
UPDATE 6/23/23: Are those of us doubters-from-the-start going to be vindicated and justice served to all those involved (Fauci & Co.) in possibly the worst world-wide crime in history? Funded, just incidentally, by the U.S. taxpayer. There will be those still charitably referring to this fiasco as a "mistake," and YouTube, flagship of a Woke MSM, has desperately removed RFK, Jr's interview with Jordan Peterson: but the genie is now fully out of the bottle, and heads must roll lest the criminals responsible and/or their aspirant imitators decide to do it again.
Whether RFK, Jr. is POTUS material is immaterial. His revelations regarding Fauci and the whole hideous Covid saga must be heard, unambiguously verified and seriously faced by a gullible world played for fools.
Thanks be for Rumble, an alternative to YouTube, an option for advocates of free speech and free thought. 
MEDICAL HELP FROM  
     FRONT LINE COVID-19 CRITICAL CARE (FLCCC) ALIANCE
ASSOCIATION OF AMERICAN PHYSICIANS AND SURGEONS (AAPS) 
UPDATE 6/22/23: RFK, Jr. and Joe Rogan discuss the blatant fraud committed by Big Pharma and its media/political cohorts in high places, discrediting HCQ and Ivermectin to save their $200 billion dollar "vaccine" windfall.
THE TRANSGENDERING/OMNISEXUALIZING OF AMERICA
UPDATE 6/23/23: Reading about her miserable life in a newly released book by a wretched actress/trans activist named Ellen/Eliot Page, the only rational response is horror at full-blown mental illness and suicidal confusion celebrated as some sort of heroism.
UPDATE 6/22/23: Since it's almost always safe to follow the money when seeking the sources of corruption, the addition of the dollar sign to the LGBTQ$ acronym makes perfect sense.
UPDATE 6/19/23: The Daniel Penny case belongs squarely alongside the gun-grabbing move to criminalize self-defense. Making a hero out of a mentally ill, dangerous criminal and a villainizing a good Samaritan is an assault on common sense and morality in general.
SUPREMES-Different faces, still a Leftist Weird Sister act
WAR & PEACE: LENIN'S (and fellow Socialist HITLER'S) HEIRS
ORWELL-OBJECTIVE REALITY/TRUTH
UPDATE 6/23/23: What better way to strike at the core of human vulnerability than confusing people about sexuality and what better path to mass chaos in general than distortion of words and their meanings? No tyranny hits home more destructively than the Left's Orwellian control of language and the new demand that everyone adapt their new sexual terminology. "Gender-affirming care" (physical mutilation) and "preferred pronouns" are but two examples of this poison that healthy people must routinely reject.  
THE GREAT RESET-The Clocks are striking 13? Can you live with this?
UPDATE 6/22/23: The only two events bringing us seriously close to curtains in our history have been the Revolutionary and Civil Wars. Obama's mission has been to effect a second, permanent civil war, and we now find ourselves a nation locked in mortal combat. Racial reconciliation is the last thing he has envisioned for us. Add to this grim picture Soros' tireless ambition to destroy America through the mass subversion of law enforcement and desiccated puppet Joe Biden to carry it out. The very image of him madly signing all those Executive Orders on Day One including the destruction of the fossil fuel industry and the trillions in new welfare swiftly booting up wild inflation, we have the Obama/Soros/Biden mission well underway.
UPDATE 6/21/23: When an armed IRS and DOJ feel free to raid private homes of an administration's political foes (Mar-A-Lago) and places of businesses (licensed gun shops), we are past merely "approaching" banana republic conditions but living in a Sovietized America.
THE POLITICS OF DEPENDENCY (and INDEPENDENCE)
GREEN MONSTER-Environmental Tyranny
UPDATE 6/22/23: Not wishing to live by candlelight, it should come as no surprise that Europeans are having to rethink "renewable energy sources" and going back to fossil fuels. A somewhat deeper look would reveal to them and all those worldwide falling for the Green Lie that fossil fuels are not a lesser evil but the path to renewed prosperity and an environmentally cleaner planet. 
ID/WOKE POLITICS, Obama's Permanent Civil War of Transformation
UPDATE 6/23/23: Squad member and all-round hater of all things American Rashida Tlaid exemplifies a different sort of intersectionality being an Islamic fanatic, a Marxist and now an enthused advocate of eco-terrorism wrapped up in one ugly carcass. 
I'M A VICTIM! YOU'RE A VICTIM! EVERYBODY'S A VICTIM!
IAVT-I'M A VICTIM TOO! (Successful Black division)
BLACK LIVES MATTER…but only selectively to the race baiters.
UPDATE 6/19/23:  Asking a French-American acquaintance about Islamic no-go zones in Paris gets the sneering response, "Sounds like something you heard on Fox News." YouTube itself has taken on this same defiant stance of denial with its videos, even highlighting threatened libel suits against Fox News by the Parisian government for "misinformation." Reality says otherwise, and real Parisians are living in palpable fear as most of invaded Europe is. 
How many attacks, rapes and decapitations does it take to wake up Westerners?
ILLEGAL IMMIGRATION/ OPEN BORDERS-Creating a Permanent Democratic UniParty Majority
UPDATE 6/22/23: Is there no shame among those champions of unchecked immigration and sanctuary cities like NYC Mayor Adams even after walking back his pledge to house illegals at Gracie Mansion? 
AMERICAN JEWRY-Brightest & Dumbest People On Earth
JEXODUS-Sensible Jews leaving the Dem Party
THE LIBERAL MIND and THE DEMOCRATIC PARTY OF PROJECTION
CLINTON (The Thing That Wouldn't Leave)
FAUCI and the curse of the "EXPERTS"
UPDATE 6/20/23: Time is showing us that Barach Obama is not only the worst thing that ever happened to American Blacks, but is, to be fully truthful, the worst thing American Blacks ever did and continue doing to themselves.
UPDATE 6/22/23: Trump drives RINOs to distraction for providing solid conservatives with a choice, the MAGA Party. His record of following thru on virtually all significant issues-the economy, taxes, controlled immigration, national security, American pride-is a constant reproach to those mired in timid, DC establishment politics and generates an equal, opposite reaction of enmity rivaling expected Dem hostility.
SUPREMES-Different faces, still a Leftist Weird Sister act