UPDATE 8/30/21: Kristi, we hardly knew ye'. Responding to the heat from Matt Walsh criticizing her for not standing up against the business lobby for unvaccinated employees, she resorts to calling him a misogynist rather than address the issue. How like a Dem feminist and how disappointing after coming on like real Presidential material for championing South Dakota freedom in the face of CoronaCrazed lockdowns.
UPDATE 8/2/21: Disappointing to see Noem not standing up for employees against employers demanding The Vaccine. Good to know now how she rolls in the crunch with yet another concession to Big Money. Her abandonment of the MAGA base is just another variation on suicidal RINO accommodation to its sworn enemies. In the bargain, she has forfeited any political future on the national stage.
8/2/21: Disappointing to see her not standing up for employees against employers demanding The Vaccine. Good to know now how she rolls in the crunch with another cave to corporate.  Her standing among MAGA Americans is now kaput.
UPDATE 3/28/21: South Dakota Governor's Kristi Noem finds her admirable anti-lockdown performance ( and her conservative credentials) seriously tarnished with an inexplicable [to many] reversal of her stance against the NCAA's ID Politics allowing men to compete in women's sports. She has hastened to explain herself, claiming questionable long term solutions outside the legal system. Lose the battle, win the war? Meanwhile, female athletes are being cheated out of the running (literally) with further likelihood of losing the war too. Additional evidence of Kristi's purplish voting history on issues when in Congress may further disqualify her as a reliable MAGA candidate.
UPDATE 2/27/21: Kristi's leadership mettle takes on further luster with her stand-out preservation of South Dakotan's liberties in stark contrast to the sheep occupying most of America's Governor's Mansions. Her excellent speech for CPAC further sets the stage for a Noem occupation of the White House. With her equally sensible colleague Ron DeSantis on the ticket, American liberties are due for a resounding return. Of course, there's always the possibility of a second Trump term, but like Rush, his greatest effectiveness may be as a civilian spearheading a massive TrumpMedia alternative to MSM and Big Tech. Whatever transpires-Trump, Noem, DeSantis-it's gratifying to have such a true-blue conservative deep bench for the future.
UPDATE 12/2/20: Warming up for national office, Kristi slams back against deliberate disinformation about her open free state and supposed record-high per-capita Covid cases. You tell a lie? Here's equal time for the truth.
UPDATED 11/15/20: Living up to her potential as SOMEONE TO WATCH, Kristi Noem exposes Obama's projection of his own calculated racism onto those 70 million Americans of all races and backgrounds, living decent lives who would never vote for him…or regret they ever did.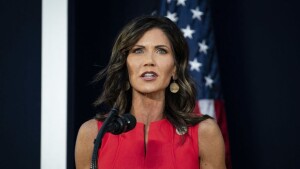 ORIGINAL POST 8/26/20: We have already made mention of this outstanding Conservative personality for her sane response to the CoronaCraze and as gracious hostess to POTUS' triumphant Independence Day speech at Mt. Rushmore.
"How else to describe her than a heroine for our time, simultaneously looking out for her state's health concerns during the CoronaCraze while protecting her constituents' most basic civil liberties? Compare her common sense and respect for freedom-loving citizens wishing to celebrate America on its birthday with those aspiring tyrants in New York (including The City), Michigan, Illinois….'Nuff said."
"Not on my watch," she has declared with regard to the monument-bashing History Savages, and one can only sit up and take notice. She has declined federal funding for unemployment because, lo and behold, people are working in South Dakota. Panicked calls for fainting couches and condemnation in response to her have become routine from a certain political party that exists solely to herd the electorate into one huge pen of government dependency.
Not by chance, South Dakota has been the gathering place for a refreshing resurgence of American normal like a quarter million motorcyclists recently descending on the Mt. Rushmore state (to the dismay of the usual suspects).
In South Dakota Governor Kristi Noem, we have a seasoned fighter on the national front, and real prospects for the inevitable post-Trump era.