AMERICAN SPIRIT-Not just surviving but prevailing!
UPDATE 12/8/22: Virtually every article praising Trump is prefaced with a qualification or insistence that the man isn't perfect or not that writer's cup of tea. Nevertheless, goes the typical apologia, his record as President speaks volumes in his favor. The latest of these begrudgingly pro-Trump articles is no exception, actually recommending him for the Nobel Peace Prize! We couldn't agree more! His commonsensical antipathy toward Iran and China and creation of an unprecedented stability in the Middle East justifies such an honor. Sadly, such prizes have been discredited by the Leftward Wokeness of recent (the last 50 years) recipients, so we'll settle for the prize of a second term for the best POTUS thus far of the 21st century.
UPDATE 12/5/22: Trump's vindication, sooner or later, must come if the reality of what's happening to the country ever dawns on the general public. At what point, does the collective mind focus and rational self-interest kick in? It's a great misfortune that there will be no move in this direction by the incoming Republican establishmentarians as the top Repub Intel chief trashes Trump, hails Zelensky calling for yet more Ukraine funding and generally sounds like a member of  BrandonWorld.
UPDATE 12/7/22: It makes sense for De Santis to remain a brilliant, unhindered FLA governor until 2028 and sensibly choose to back up Trump in the meantime for 2024. This would be the perfect way of thwarting the sneaky snakey RINO cabal currently trying to buy De Santis off as their anti-Trump tool. Better yet, the time would be prime for an unowned De Santis in 2028. Pray for his political instincts to make the best choice for himself and for the country.
UPDATE 12/5/22: It's no longer questioned or even news that De Santis has major backers who actively hate and oppose Trump and MAGA. They are globalist billionaires with no interest in the beneficial populism that has replaced the RINO business-as-usual accommodation to the worst Dem policies. These are characters actively endorsing open borders, closer ties to China and NOT America First and certainly NOT Making America Great Again. Presumably this anti-American agenda is a condition for their support for the attractive young guy we've considered a viable alternative to Trump.
(In search of) AN AMERICAN MARGARET THATCHER 
UPDATE 12/8/22: Posted originally August, 2020, who would know which emerging female conservatives praised would live up to the hoopla?
An article this week announcing dismissal of a libel lawsuit by flashy Baltimore candidate Kim Klacik against Candace Owens comes as news to these quarters. According to Owens, Klacik's dazzling, high-heeled campaign walk through squalid, Inner City Baltimore was marred by some willful financial hanky-panky.  Were all the tributes and contributions received from across the country solicited in bad faith? Or is it just practicality forcing her to cut and run to avoid a costly legal battle against a better-funded opponent? One suspects this once-rising star has become a faded flash with little prospect of a successful political future.
A much-appreciated freedom-loving Red State Governor during the lockdowns, Kristi Noem remains an enigmatic wait-and-see. 
On a reassuring positive note living up to the post's original hopes, Candace Owens remains a major political/journalistic presence, and Sarah Huckabee Sanders is now Governor of Arkansas. And Kayleigh McEnany just became a mom for the second time.
ELECTION FRAUD-America In The Balance
UPDATE 12/10/22: Yes, the 2020 election was stolen, and no, it's never been seriously, honestly investigated. To ignore either point is to condemn our free republic to death.
JANUARY 6-Tyranny vs A Nation of a Trillion Sparks
PLANNED PARENTHOOD/SELLING ABORTED BABY BODY PARTS
MEMORIAL DAY AND D-DAY
CALIFORNICATION/DETROITING OF AMERICA
UPDATE 12/4/22: We aren't America without freedom of speech, and this most basic right and privilege of American life has been suppressed from the highest levels of the Dem Party. They long ago exposed themselves as UniParty totalitarians, and every move and policy they make now seems geared to destroy what we think of as our free country. Now with Elon Musk's Twitter takeover, the magnifying glass is on this treachery as played out in social media. Actor James Woods leads the pack of those prominent conservatives muzzled up to now, and going on the offensive against these dark forces. May full exposure in the Twitter Files be only the first shot in a fight, however long, to the finish.
UPDATE 12/8/22: Molding and indoctrinating the children of the future is the long-range strategy for a New World Order, Great Reset, etc. etc. ad Exit Mundi. That is the reason former Secretary of State Mike Pompeo this week declared Randi Weingarten, head of the rabidly Leftist AFT (American Federation of Teachers), "the most dangerous person" in the world. In accusing her of such supreme evil, Pompeo in his remarks consciously considered her fellow totalitarians Putin, Kim & Xi and gives her top spot among tyrants. His legitimate rationale for considering her the worst of the worst is her direct, powerful hand in turning young Americans en masse into the good Wokesters (communists) of the future. Minus an American population dedicated to our original principles underpinning freedom of the individual, the entire free world is lost.
Likewise, under the guise of promoting healthy children, pediatric medicine has been hijacked as one more means to control the young.  Thanks to drug and behavioral mandates, parental/family authority is to be considered obsolete while the all-knowing Collective has become your children's mandated Big Mommy & Daddy. Covid with its Good Doctors and Concerned Experts was just the dry run.
CLASSLESS, GENDERLESS, RACELESS, FAITHLESS-Erasing all defining lines
UPDATE 12/6/22: The only "Made-in-America" thing in the Biden-Granholm "clean & green" energy for the future is the money going to finance CHINESE operators to be totally in control of the companies in question. The sinister alliance of Crony Capitalist Supreme Tim Cook alongside Chinese tyranny is an even more disturbing case in point. Originally "made-in-America," Apple and its ilk are now, in full practice, Red Chinese behemoths.
CORONACRAZED/MEDICINE COMPROMISED
UPDATE 12/4/22: The "bat in a wet market" fable becomes progressively more absurd as serious investigators pursue the real origins of The Virus. Once it's firmly established beyond question that it was deliberately created in a Wuhan lab, let's hear (again) more about who funded it, particularly from abroad…like maybe, someone in the U.S. Government interested in "gain of function"…like maybe…You know who…
UPDATE 12/6/22: "The Science" is a devious, little fraud.
MEDICAL HELP FROM  
     FRONT LINE COVID-19 CRITICAL CARE (FLCCC) ALIANCE
ASSOCIATION OF AMERICAN PHYSICIANS AND SURGEONS (AAPS) 
THE TRANSGENDERING/OMNISEXUALIZING OF AMERICA
UPDATE 12/6/22: It's cause for celebration that serious resistance to gender transition clinics pushing sex-change surgery on the young is gaining traction and bringing this barbarity to a halt.
UPDATE 12/5/22: It's logical that pedophilia is well on the way to being considered "normal" when a major segment of the adult population has no problem with scaring children with tales of imminent planetary extinction, characterizing the free world as hateful & racist, and telling Johnny & Janie they can be whatever gender they choose. What more receptive audience is there for those deviants spouting such absurdities than the young and impressionable? This child abuse itself masquerading as "social consciousness" is becoming the New Normal. So pedophilia is a natural.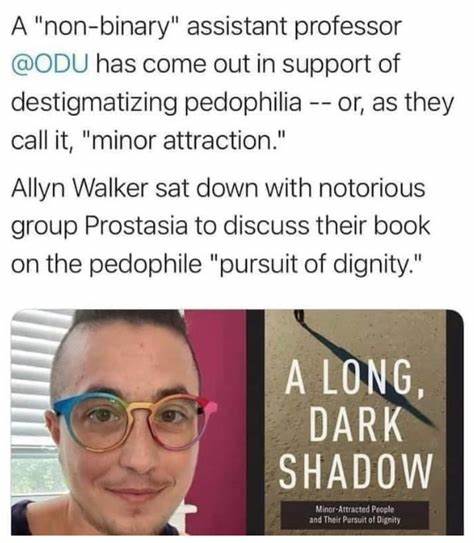 SUPREMES-Different faces, still a Leftist Weird Sister act
WAR & PEACE: LENIN'S (and fellow Socialist HITLER'S) HEIRS
UPDATE 12/8/22: Those who wish/think/hope the "surprise attack" on Pearl Harbor is not repeatable live in denial. Does the Afghanistan surrender and the disgraceful Commander-in-Chief overseeing that disaster provide any hint of unpreparedness? Does this empty human shell's assessment of there being "more important things" than an overrun border offer at least a tiny clue of imminent danger?
ORWELL-OBJECTIVE REALITY/TRUTH
Sam Brinton For Dem Party President, 2024!!!
UPDATE 12/7/22: Who needs Babylon Bee satire when real life in our universally politicized, hyper-sexualized culture has reached routine absurdity?
THE GREAT RESET-The Clocks are striking 13? Can you live with this?
THE POLITICS OF DEPENDENCY (and INDEPENDENCE)
GREEN MONSTER-Environmental Tyranny
UPDATE 12/8/22: Must we wait until that inevitable day when all those batteries just don't work (or explode), and life simply screeches to a halt? Or will commonsense prevail and combustible fossil fuels continue to power a vibrantly alive world while provably better technology gradually develops?
UPDATE 12/5/22: The late scientist Michael Crichton reiterated Chesterton's truth that no one, even rabid atheists, are godless. "When Man ceases to worship God he does not worship nothing but worships everything." Everyone fills the void with something. Or anything.  In the case of Greenies, it's Environmental Theology, yet one variation of that most deadly opiate of the masses called Marxism. For good reason, worshipers of Mother Gaia are now commonly known as Watermelons: Green on the outside, dark Red inside.
ID/WOKE POLITICS, Obama's Permanent Civil War of Transformation
I'M A VICTIM! YOU'RE A VICTIM! EVERYBODY'S A VICTIM!
IAVT-I'M A VICTIM TOO! (Successful Black division)
UPDATE 12/9/22: Kanye West and his self-destructive anti-Semitic rant of late is just a distorted expression of long-held resentment by Blacks against Jews. How, the resentful Black asks, have the Jews comprising a little more than 2% of the American population achieved as a group their extraordinary prominence and success while millions of Blacks remain mired down at the lowest levels of society?
One side of the story is that the Jews have not as a group been ensnared and crippled by the racism of low expectations which they as patronizing liberal Democrats have inflicted on Blacks! The other side of the story is that Blacks bear the responsibility for continuing to allow not only Jews but other Blacks and all Democrats to act as overseers of this perpetuated slavery. Look no further than the Democratic Party to understand how this racial animus between Blacks and Jews keeps playing out to no one's advantage. Both groups would do well to break the S&M stalemate, leave the Democratic Party and take on individual responsibility and merit as their guiding principles, not Identity Politics.
BLACK LIVES MATTER…but only selectively to the race baiters.
ILLEGAL IMMIGRATION/ OPEN BORDERS-Creating a Permanent Democratic UniParty Majority
UPDATE 12/8/22; It's official according to the fake POTUS when asked about The Border: "There are a lot of more important things going on" than millions of unvetted foreigners pouring in to be fed/clothed/sheltered/contained/bought and owned by the Dem Party with "other people's money" from the U.S. Treasury. What could be so important about the chaos and suffering such a displaced mob creates in any single community, let alone thousands throughout the country?
"…a lot more important things going on…"
UPDATE 12/4/22: Is there anything done since January, 2020 by BrandonWorld that doesn't have the specific purpose of destroying every positive move made toward peace, prosperity and freedom, both here and abroad? Anything? Biden/Blinken's disappointment in Bibi's return is palpable as their goal for the Middle East is dismantling every positive move made by Trump in the region.
AMERICAN JEWRY-Brightest & Dumbest People On Earth
JEXODUS-Sensible Jews leaving the Dem Party
UPDATE 12/8/22: A central tenet of Leftism is intolerance for the airing of different ideas, debate, free speech. When the only God is Leftism and the Leftists who implement it, human life ultimately finds itself suddenly valueless. 100,000,000+ murdered souls on the altar of international communism offers irrefutable evidence of this. Dennis Prager & Marisa Streit discuss their frontline battle with a tyrannical organization called NewsGuard. Focus on this wholly evil "watchdog" with connections in high Leftist places couldn't be more timely as the newly released Twitter Files provide equally unthinkable revelations.
THE LIBERAL MIND and THE DEMOCRATIC PARTY OF PROJECTION
UPDATE 12/6/22: There rarely if ever has been a more obvious case of self-enriching influence peddling than the Bidens; but as in almost everything transparently corrupt about these lowlifes, it's of absolutely no concern to the Trump haters and Dem Party faithful. This also illuminates the sorry fact that the outright censorship of social media by the Biden forces has really been unnecessary when so many Left-leaning voters have morally anesthetized themselves. The more charitable attribute this to "stupidity" while the hard-nosed realist sees pandemic amorality.
CLINTON (The Thing That Wouldn't Leave)
UPDATE 12/5/22: They don't make 'em any more contemptible AND contemptuous than Hils as her latest, desperate upchucks comparing pro-lifers to war criminals illustrates.
UPDATE 12/6/22: "I don't recall." 174 times. But he will eventually when the facts of what he did are displayed enough times to jog "The Science's" suddenly poor memory.
Also posted above under VACCINEVILLE to drive home a certain point with the subtlety it deserves.
UPDATE 12/10/22: Note well the names of those Republican Senators refusing to look at the newly released Twitter Files showing the concerted presence of censorship in the 2020 Election Refusal to address a corrupted voting process is collusion with the devil that these fools think cannot/will not affect them personally in any negative way.
SUPREMES-Different faces, still a Leftist Weird Sister act