AMERICAN SPIRIT-Not just surviving but prevailing!
UPDATE 12/2/22: Defining oneself and general outlook as "conservative" is quite the opposite of reactionary stagnation as those on the Left would claim. Conserve what's worthwhile in service to letting free life bloom and grow in every direction.
For example, Christmas. Who'd have dreamed that freely celebrating Christmas as we always did was dependent upon which Party was in power? That saying "Merry Christmas" would become an offense?
UPDATE 12/1/22: Philosopher/pundit Jordan Peterson and Congressman Mike Johnson are two of today's most worthwhile voices, one a crystal-clear socio-political thinker, the other a politician who thinks. What they have in common is a full awareness of our world and total dedication to conserving the best in it. [P.S. Peterson has brilliantly avoided being shouted down in public like other outspoken conservatives by delivering his live lectures at 8 am which is hours before most shrieky wastrels of Woke bother to wake up. The man has a rational response to everything.]
UPDATE 12/1/22: It's a handful of big-mouth bullies dictating the Woke culture, dividing each against the other, blackening the mood of the country. Corporations and individuals must talk back, call out the lies and absurdity and become the prevailing winds of our culture.
UPDATE 12/1/22: It's going to be Trump & De Santis. The others are just inserting themselves to make anti-MAGA mischief and/or create distraction.
UPDATE 11/29/22: Both a credit to their home state of Louisiana, rising Repub stars in Congress Steve Scalise and Mike Johnson bring class and clarity to the GOP.
UPDATE 11/27/22: This post's obvious comparison last week of Trump to Gary Cooper in "High Noon" is evident to others who also view him as the unbeaten lone warrior refusing to go down while fighting on our behalf. It should also be noted this is not a personality disposed toward martyrdom, however determined his enemies are to crucify him. Whatever the outcome, let the record show we've had a rare fighter in our corner. 
UPDATE 12/1/22: It's official. The 2024 candidate's prerequisite book is now out: The Courage to Be Free: Florida's Blueprint for America's Revival. If the candidate, he'll have most conservatives' vote, but he must retain a hefty strain of Trump MAGA if he is to make a real difference. Otherwise, we're stuck again with spineless, mercenary RINO accommodation which brought us to the point where Trump became an absolute necessity. Are we going around in circles (and losing the country in the process) or really moving ahead?
UPDATE 11/29/22: Not being Trump (thanks to his newly outed Never Trump and globalist/corporate backers) is adding up to some disadvantage for our best alternative so far to Trump.
UPDATE 12/1/22: Judging by the list of nightmares visited upon us since 2020, one would almost suspect our present leaders really want to destroy America. This would be denied by the Trump haters who carry on with the full support of a dangerously high percentage of the electorate. To quote one realist: "What does the United States stand for? With Joe Biden in the White House, absolutely nothing."
ELECTION FRAUD-America In The Balance
JANUARY 6-Tyranny vs A Nation of a Trillion Sparks
PLANNED PARENTHOOD/SELLING ABORTED BABY BODY PARTS
MEMORIAL DAY AND D-DAY
CALIFORNICATION/DETROITING OF AMERICA
UPDATE 12/1/22: In rejecting Caruso for mayor, the City of Suicidal Angels has declared all's well with crime and the general deterioration of life there . Let the Californication/Detroiting continue!
CLASSLESS, GENDERLESS, RACELESS, FAITHLESS-Erasing all defining lines
UPDATE 11/28/22: China is going full hell-on-earth with its Zero Covid lockdowns, literally locking up entire cities of millions on a long term basis and carting off children to concentration camps in the name of public health. Doubtless those camps will come in handy for the thousands of political dissidents growing in number by the day. Regrettably, what optimists hail as a promising, anti-communist revolution in progress will most likely end in sustained crackdowns dwarfing Tiananmen Square and other previous State violence on political unrest. The regime has everything to lose and no qualms about using fully armed power to crush unruly uprisings.
The West, particularly America, should be on high alert. Those notables in the West like globalists, NY Times journalists and current U.S. Presidents pardoning this, even hailing China as the model society, are actually the totalitarian monsters we always knew would eventually pop from within them like "Aliens." Trudeau's Canada is already well on its way down this hideous vortex.  In the case of one foggy-headed creep living in the White House, such identification and collusion with evil is perfectly understandable when his crime family is so inextricably entangled in Chinese graft.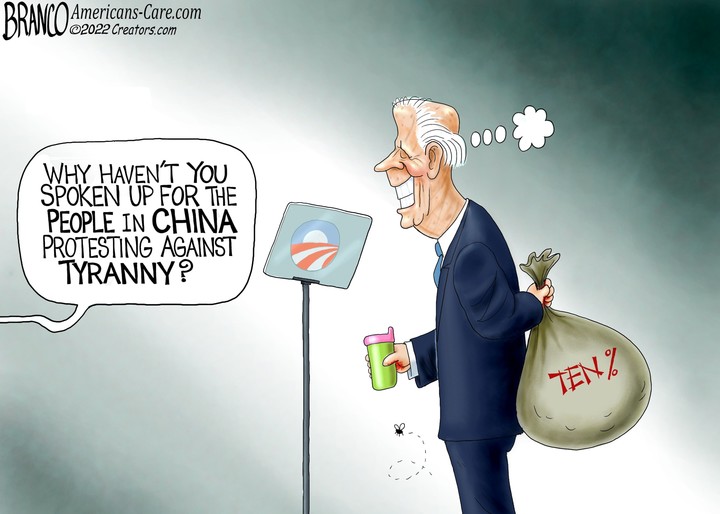 CORONACRAZED/MEDICINE COMPROMISED
UPDATE 12/3/22: Pfizer honcho Bourla finds himself in a similar pickle fraudulently pushing universal jabbing of kids now as he was a year or two back when insisting on the urgency of universal adult vaxxing while exempting himself and his family. Under pressure, he opted to get jabbed…or so he claimed to the media. With equal credibility, he's now hawking universal vaxxing of children by lying about a non-existent rise in infection among the young.
UPDATE 12/2/22: Hear out this Australian senator. His enraged but rational tirade summarizes what was inflicted upon literally billions worldwide, not only Down Under. This is yet one more plea for full investigation and exposure of BigGov's Covid response and the overwhelmingly negative consequences that followed.
UPDATE 12/1/22: The decidedly unhealthy and hereditary consequences of the vaxxes altering our DNA continue to be ignored except for those few lone voices like Dr. Peter McCullough.
UPDATE 11/27/22: An Israeli pathologist modestly suggests perhaps some testing of vaccines might be advisable before administering them to children, not to mention adults. The sudden spike in heart failure among the vaxxed would in normal times be cause for withdrawal of the products from the market. But then, these are not normal times, and has any of this really been about anyone's health?
MEDICAL HELP FROM  
     FRONT LINE COVID-19 CRITICAL CARE (FLCCC) ALIANCE
ASSOCIATION OF AMERICAN PHYSICIANS AND SURGEONS (AAPS) 
UPDATE 11/27/22: Malaria?  High use of Ivermectin? Low Covid incidence in Africa? One needn't be a medical professional to connect some dots here. Sooner or later, the hoodwinked public will demand the easy availability of these cheap, provably EFFECTIVE alternatives to the umpteenth booster rolling off BigPharma's money-making assembly lines.
THE TRANSGENDERING/OMNISEXUALIZING OF AMERICA
SUPREMES-Different faces, still a Leftist Weird Sister act
WAR & PEACE: LENIN'S (and fellow Socialist HITLER'S) HEIRS
UPDATE 12/3/22: Communism's century of social devastation still remains modern history's major blight on healthy human life. Natural disasters do not even come close to the misery and death visited daily on people by this authentic plague.
UPDATE 12/1/22: Now Zelensky's openly selling the special privilege of bankrolling his country to corporate billionaires. This is definitely money to follow. Supposedly, it's going to benefit Ukrainians, but one suspects this charitable pot will be swiftly emptied enroute with nothing left for a suffering people.
UPDATE 12/1/22: The Ukraine debacle is one more warning that the bullies must be deterred by strength before they're emboldened to act like…bullies. Hint: Putin waited until Trump was gone to invade.
UPDATE 11/27/22: Well, well, now Zelensky's asking $50 billion more for "infrastructure, pensions…." Again, the response is "Hmmm," now with the more specific question, "Where is that money ending up? Is this all a big money laundering scheme?"
ORWELL-OBJECTIVE REALITY/TRUTH
THE GREAT RESET-The Clocks are striking 13? Can you live with this?
THE POLITICS OF DEPENDENCY (and INDEPENDENCE)
GREEN MONSTER-Environmental Tyranny
UPDATE 12/3/22: It'll be cozy this winter for the Green-minded Swiss: no heat, no travel, no electricity wasted on reading at night. Luckily, America hasn't forced this wise response to the "Climate Change emergency" on its citizens…yet. We were stupid enough to hunker down obediently in our houses and off the streets for two years for even less, so anything is possible.
UPDATE 12/2/22:  Green Tyranny, in the Netherlands and its kindred globalist regimes, is reaching an especially absurd peak where destroying food production is deemed necessary to save the planet. Apparently, millions of starving, dead people ON the planet are to be considered inconvenient collateral damage.
ID/WOKE POLITICS, Obama's Permanent Civil War of Transformation
I'M A VICTIM! YOU'RE A VICTIM! EVERYBODY'S A VICTIM!
IAVT-I'M A VICTIM TOO! (Successful Black division)
UPDATE 12/3/22: With his latest mad ravings celebrating Hitler and villainizing Jews, "Ye" has relegated himself to permanently deserved obscurity. What a waste and a cruel disservice to those other Blacks like himself refusing to be obedient slaves on the Dem/Leftist plantation.
BLACK LIVES MATTER…but only selectively to the race baiters.
ILLEGAL IMMIGRATION/ OPEN BORDERS-Creating a Permanent Democratic Party Majority
UPDATE 11/30/22: What could be a more reassuring headline for Israel than to see: "Bibi's back?" Translated to its plainest meaning: Israel has wisely reverted back to strong leadership that recognizes its enemies and will governs to ensure the country's survival and enable the astonishing productivity of its people. Shamefully among those enemies is the dim-witted American imposter POTUS, his evil handlers and media lapdogs, propping up and even rewarding the "Palestinian" frauds.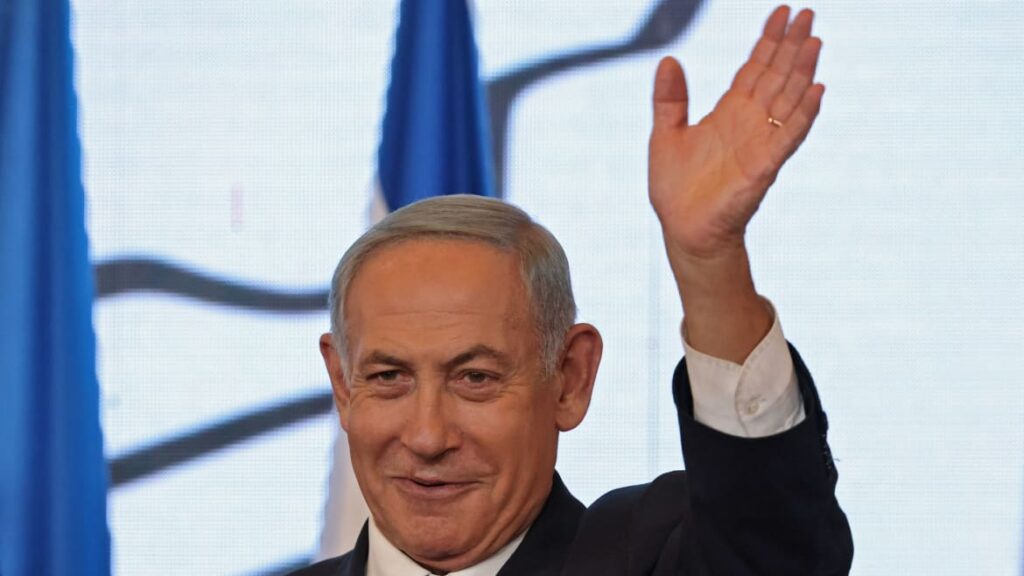 AMERICAN JEWRY-Brightest & Dumbest People On Earth
JEXODUS-Sensible Jews leaving the Dem Party
THE LIBERAL MIND and THE DEMOCRATIC PARTY OF PROJECTION
UPDATE 11/29/22: Inconvenient truth for the Left is now routiney rebranded "disinformation" which, under that name, is automatically bound for immediate burial. Any follow-up necessary for the skeptical or outright critical is called "gaslighting."
They're calling it "disinformation" these days.
UPDATE 11/29/22: The full, worldwide (China, Ukraine…etc) extent of the Biden Crime Family's corruption is a wonder to behold for anyone harboring delusions of "decency" surrounding this rotter and his clan. Which reminds us of the now-infamous "Hunter's laptop" and the newly released account from the hapless computer repairman who broke this true bombshell story that, so far, has been pretty much spiked. He's entitled the book "American Injustice" which sadly describes the ever-worsening of times we live in. 
CLINTON (The Thing That Wouldn't Leave)
UPDATE 12/2/22: Judging by his recent non-answers to questions during a Louisiana court deposition about what he was doing to the country for two years, it's hard for Tony to remember and so easy to forget.
UPDATE 11/28/22: Fauci's final declaration as head of NIAID (National Institute of Allergy and Infection Diseases) show that he will never admit to any wrongdoing or irreparable damage caused by his omnipresent "advice" that became social wrecking ball policies. So it must be spelled out in court, piece by piece, until all the pieces add up in full view to the machinations of a self-enriching, pathologically detached bureaucrat sedately drunk with power & influence.
UPDATE 11/27/22: He's made it his life's mission to undermine every free society on earth and in the vacuum replace them all with totalitarian, centralized globalism. Viktor Orban, leader of his native Hungary, knows him all too well and has effectively exiled this former Nazi permanently. Naturally in turn, a handful of George's multimillion$ have been specifically earmarked to take out Orban.
SUPREMES-Different faces, still a Leftist Weird Sister act