AMERICAN SPIRIT-Not just surviving but prevailing!
UPDATE 6/11/23: Everything starts with an idea and, thanks to the freedom to act on that idea however preposterous, the unbelievable continues to become commonplace over time.
UPDATE 6/14/23: Assume Trump is allowed to win a second term uncontested. Surely the Left will throw in the towel and decide to stop its relentless drive for absolute UniParty dominance. Not in the cards even with the best possible outcome in November, 2024. The sharks have taken their bites, tasted the blood, and there will be no sating them. Average Joe/Jane Dem will passively continue to go along with the radicals running their Party and will never actively fight for free enterprise, patriotism, individualism over collectivism. Too "Republican." Winning the election fair and square is the best scenario, but the bloody war will rage on.
UPDATE 6/11/23: It doesn't take genius to see the folly of choosing an "electable" GOP moderate. Think McCain and Romney. And think Ford chosen over Reagan in 1976. Don't forget Bush I without Reagan in 1992. Small wonder those UN-electable milquetoasts and RINOs hate an unambiguous, provably electable DJT with a white-hot passion rivaling his Dem detractors. Remember that warning about "moderation in pursuit of justice?"
Barry was up against the longing for a tragically martyred JFK, not the crude, corrupt LBJ.
UPDATE 6/11/23: Trump's continued presence on the forefront of conservative politics remains the hope of millions and a source of anxiety for those supportive of his record but legitimately scared of the rain of poisoned arrows aimed at him…and them. 
MAKE AMERICA ACCOUNTABLE AGAIN (OPENTHEBOOKS.COM)
(In search of) AN AMERICAN MARGARET THATCHER 
UPDATE 6/16/23: We are approaching that point where one can be seriously worried about how far down do we go before all things fall apart?
ELECTION FRAUD-America In The Balance
JANUARY 6-Tyranny vs A Nation of a Trillion Sparks
UPDATE 6/11/23: As demonstrated by the inhuman jailhouse treatment and obscene sentencing of Stewart Rhodes, J6 is BrandonWorld's Reichstag fire, the disaster the Nazi Party secretly created then seized upon to rationalize the destruction of all political opposition.
PLANNED PARENTHOOD/SELLING ABORTED BABY BODY PARTS
MEMORIAL DAY AND D-DAY
CALIFORNICATION/DETROITING OF AMERICA
CLASSLESS, GENDERLESS, RACELESS, FAITHLESS-Erasing all defining lines
UPDATE 6/16/23: Self-styled, showboating champions of "inclusiveness" like faux country boy/universal peacenik Garth Brooks are blinding themselves to the slippery slope of sickness and damage enveloping the young in the name of normalized "Trans Rights." As for adults, let the consumer market decide whether it's good business to celebrate bizarros like Dylan Mulvaney. That market includes Garth's own bar and vast professional brand. Unlike clueless ol' Garth, a goodly share of his audience and fan base may still retain enough sense of what's good and bad, decent and indecent, sane and insane within themselves to decide such compulsory "inclusiveness" is in fact one giant assault/insult, excluding them and their values.
UPDATE 6/15/23: China's nothing to worry about? Normalizing CCP relations, further intertwining/identifying ourselves with the demonic regime that gave us Tiananmen Square among countless other atrocities is best illustrated by those police forces in "free," "civilized" America, Australia and New Zealand set loose on uncooperative, unmasked citizens during the Covid meltdown.
"Public Order Response" in Australia.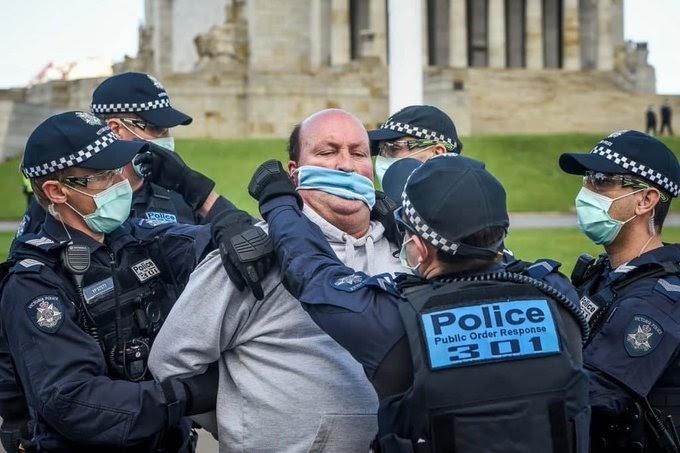 Similar "Public Order Response" by law enforcement keeping the citizenry "safe" in Philadelphia, 2020.
CORONACRAZED/MEDICINE COMPROMISED
MEDICAL HELP FROM  
     FRONT LINE COVID-19 CRITICAL CARE (FLCCC) ALIANCE
ASSOCIATION OF AMERICAN PHYSICIANS AND SURGEONS (AAPS) 
THE TRANSGENDERING/OMNISEXUALIZING OF AMERICA
UPDATE 6/17/23: On the subject of transsexual procedures being performed on minors, the most rudimentary common sense overrides the testimony of "experts" and proposed legislation claiming to benefit young victims of this psychotic craze.
SUPREMES-Different faces, still a Leftist Weird Sister act
WAR & PEACE: LENIN'S (and fellow Socialist HITLER'S) HEIRS
ORWELL-OBJECTIVE REALITY/TRUTH
UPDATE 6/13/23: Biden's embarrassing "Pride" celebration at the White House is apparently not playing well. Big surprise.
UPDATE 6/12/23: Watch the video of topless trannies flashing on the White House lawn today in a celebration of "Pride Month." And hear the alleged POTUS slobber over the giddy celebrants as "the bravest and most inspiring people I've ever known." We are witnessing yet another example of Obama's "Transformation," in this case crossing the borderlines between rational, civilized social behavior and lawless contempt. This blatant sort of subversion was evident in Biden himself and pointed out as far back as his notably ugly display opposite Paul Ryan in the 2012 VP debates.  Discarding manners and normalizing rude & crude is one of many ways of undermining an entire society, and the powers that be have chosen the perfect person to lead down that road to perdition.
UPDATE 6/15/23: Being on the Leftist spectrum with all the proper views regarding "climate change," non-binary sexuality, uncontrolled immigration, criminals as victims, hating Donald Trump means never having to say you're sorry in a courtroom…and, conversely, criminalizing anyone in opposition. "Two-tiered justice" has become the chilling reality of a lawless society spiraling downward toward totalitarianism.
THE GREAT RESET-The Clocks are striking 13? Can you live with this?
THE POLITICS OF DEPENDENCY (and INDEPENDENCE)
GREEN MONSTER-Environmental Tyranny
UPDATE 6/15/23: The most celebrated of eco-terrorists, the Unabomber, has departed the planet he loved so much that he was willing to exterminate innocent human life to save it. Unfortunately, his political descendants are no longer a few lone fanatics but active members of a widespread, murderous cult.  
UPDATE 6/11/23: No surprise that the Canadian wildfires are not merely disasters for Canadians in the region (and coughing, choking people enjoying the smoke all the way down to the Carolinas). It's "Climate Change" of course! Pay up/give it up/do without/die! Or is it legit science pointing to the absence of sound forestry & conservation principles dictated by "Climate Change" hysteria? OR, perhaps most likely, the sinister plague of eco-terrorism, "Climate Warriors" deliberately setting fires to save the earth? Note that all hellish roads lead back to "Climate Change," that evilest, most insidious of means to totalitarian ends.
ID/WOKE POLITICS, Obama's Permanent Civil War of Transformation
UPDATE 6/17/23: After trillions in aid and welfare and sundry social programs since LBJ's Great Society launch in the 60s, one can logically counter that reparations have been paid, and it's time those seeking more should go and get a job. Admittedly, it would be a blow to those grifters living high and higher and higher yet off of Race Grievance, Inc. Curious there's no similar set-up for permanent compensation in Germany for the descendants of 6 million exterminated Jews.
I'M A VICTIM! YOU'RE A VICTIM! EVERYBODY'S A VICTIM!
IAVT-I'M A VICTIM TOO! (Successful Black division)
BLACK LIVES MATTER…but only selectively to the race baiters.
ILLEGAL IMMIGRATION/ OPEN BORDERS-Creating a Permanent Democratic UniParty Majority
UPDATE 6/13/23: For those FULLY behind Israel's right to independent statehood, Henry Kissinger has always been the equivalent of a RINO on the international level. Time is showing his touted eminence is a bit tarnished on multiple fronts, specifically in regard to being a sincere champion of the Jewish State. Making big showy deals and coming off historically as the Great Peacemaker is all that mattered for him. Those going along with this fable are confronted with the hard, cold fact that the only real peace is full preparation for war and keeping the unrepentant enemy permanently aware of that.
The man quoted as saying, "Power is the ultimate aphrodisiac." 
AMERICAN JEWRY-Brightest & Dumbest People On Earth
JEXODUS-Sensible Jews leaving the Dem Party
THE LIBERAL MIND and THE DEMOCRATIC PARTY OF PROJECTION
UPDATE 6/11/23: Trump is under indictment while Biden bumbles freely over sandbags, collects millions in pay-for-play bribes as the world burns. Call it gaslighting. The jaded realist once again calls it the Big Lie. 
LIMO LIBS including the MSM
UPDATE 6/16/23: Most Leftist journalists like Christiane Amanpour can charitably be categorized as Useful Idiots, cheering on the devil's work rather than getting their hands dirty doing things like planting a bomb on a school bus carrying Israeli children. No, the perverse role of Amanpour and her ilk is routinely writing screeds lambasting the good while celebrating evil, garnering cheers and lucrative careers in the bargain.  In Amanpour's case, she has recently called the wanton murder of 3 Israeli family members on holiday a "shoot-out," implying the wholly innocent victims got as good as they gave. Moral equivalence of Israel and "Palestinians." Like sending birthday greetings to Zimbabwe cannibal Robert Mugabe followed up by swift backpedaling, she has issued a very quiet apology for this little oversight. Oops! There. All better. With the efforts of an outraged Alan Dershowitz and others sick of her (and CNN's) history of lies, may she and her equally amoral CNN employer find some decidedly unglamorous accountability in court.
UPDATE 6/17/23: We patiently await a full financial accounting and fuller accountability by our distinguished First Family of Crime. The latest figure on their illicit take from foreigners seeking favors is $30 million. 
CLINTON (The Thing That Wouldn't Leave)
FAUCI and the curse of the "EXPERTS"
UPDATE 6/15/23: A world-class control freak like lovable old George is not about to give up the aphrodisiac of power any time before he assumes room temperature. Ergo, it's reasonable to assume the alleged transfer of control to his nerdy nebbish of a son is simply being the man behind the curtain, as phony as the miserable old monster's fake "philanthropy." 
Is that Pee Wee Herman at the door to Papa's throne room?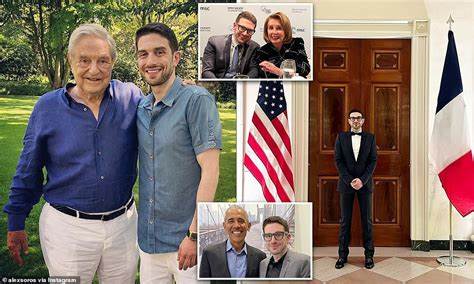 SUPREMES-Different faces, still a Leftist Weird Sister act
WEEDS IN THE AMERICAN GARDEN OF FREEDOM
UPDATE 6/15/23: A longtime toiler in the hallowed halls of Race Grievance, Inc, Keith Ellison remains the quintessential establishment  termite and fraud acquiring and exercising legal power to undermine the police and the laws they (and he) are sworn to uphold.