AMERICAN SPIRIT-Not just surviving but prevailing!
UPDATE 4/23/23: Few entertainers have made the world laugh harder and more than Barry Humphries' masterpiece creations, Dame Edna and Sir Les. Edna was every inch the international…nay…intergalactic superstar, and now, inexplicably, she is gone along with Barry's mortal coil, shuffled off just this last week. She was the brilliant embodiment of freedom, ambitiion and true individuality (ergo her place here in "American spirit") with each graciously delivered insult, every polite crooked crack scowl, the mock-shocked gaze from behind those iridescent cat glasses. Here was a genius actor coiffed and dressed like the world's most outrageous British Panto star, lovingly riding herd over everyone and everything worthy of ridicule in her path.
Unsurprisingly, this former housewife turned Grande Dame from Melbourne's boringly provincial Moonee Ponds suburb found her real-life alter ego/creator canceled for poking totally sensible, neat little holes in the whole grim politicized transgender movement with which Barry Humphries adamantly claimed no kinship. ("It's pretty evil when it's preached to children by crazy teachers,")
Alas, comedy is serious business for the supremely talented and just silly drivel in the hands of the easily forgotten stupid. Edna/Les/Barry was an entertainer without equal, not a politician or polemicist, and no performer on the planet generated more laughter or will be more missed.
Myself onstage with the Great Lady, Broadway, 1999. Invited up from the audience to bask in her glow and eat inedible spaghetti and tasteless wine. And laugh. 
GOODNIGHT, POSSUMS!!
UPDATE 4/25/23: It's politics, not beanbag as the old saw goes; but Trump does himself a major disservice attacking De Santis by denigrating Florida, of all places, Trump's own chosen home state! This is desperation he needn't have, considering the strong lead he enjoys on the basis of his own positive record, not the claimed deficiencies of his chief rival.
De Santis, by contrast, continues calmly apace, nary a word or step amiss, with his record as governor and now a campaign book and outstanding interview with Hillsdale College's Larry Arnn.
Conservatives are faced with a dilemma, picking one of two solid spokesmen. "Who will win?" Is the question. The ideal would be a resounding landslide for Trump in 2024, decisively slaying the hydra-headed persecution campaign against him, illuminating the corruption and massive assault on him and the country. Following thru on Making America Great Again-the economy, energy, the border, the military-the path is clear in 2028 for two terms of De Santis.
Anything less guarantees the unthinkable end of America as we've known her. At the moment, we resemble nothing so much as Russia or France on the brink of suicidal revolution. God help us.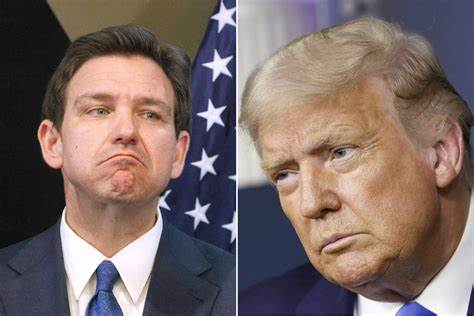 MAKE AMERICA ACCOUNTABLE AGAIN (OPENTHEBOOKS.COM)
(In search of) AN AMERICAN MARGARET THATCHER 
UPDATE 4/29/23: It's hardly news that mass political movements too often operate like religious cults that produce the most evil results imaginable. The whole coercive Great Reset/Identity Politics/Woke Transformation engulfing us is not to be confused with authentically populist movements calling for responsible, individual freedom and the resultant prosperity. One need only look at actual results of each to distinguish between good and evil. Simply put:  "Know your friends, know your enemies…and the difference between them."
ELECTION FRAUD-America In The Balance
JANUARY 6-Tyranny vs A Nation of a Trillion Sparks
PLANNED PARENTHOOD/SELLING ABORTED BABY BODY PARTS
MEMORIAL DAY AND D-DAY
CALIFORNICATION/DETROITING OF AMERICA
UPDATE 4/26/23: Perhaps BrandonWorld's greatest crime is  the epidemic of hopelessness and confusion afflicting young people. What chance is there for those told from birth that the planet is doomed and that there are 1001 genders?
CLASSLESS, GENDERLESS, RACELESS, FAITHLESS-Erasing all defining lines
CORONACRAZED/MEDICINE COMPROMISED
UPDATE 4/25/23: The untold tales of hospital horrors during the Covid catastrophe must be aired widely and often in response to those still ignorant of widespread bio-medical tyranny and fraud.
UPDATE 4/29/23: Too obvious, hiding in plain sight. We await the scandal and outrage that apparently will never come surrounding Pfizer paying millions to medical associations, consumer groups and civil rights organizations to push vaccine mandates. Does the public care that that urgency forced upon us to "Get Vaccinated!" was all about Big Pharma profits?
MEDICAL HELP FROM  
     FRONT LINE COVID-19 CRITICAL CARE (FLCCC) ALIANCE
ASSOCIATION OF AMERICAN PHYSICIANS AND SURGEONS (AAPS) 
THE TRANSGENDERING/OMNISEXUALIZING OF AMERICA
UPDATE 4/25/23: We're supposed to be touched and inspired by this steadily rising mucky stream of supposedly wise-beyond-their-years tales of childhood sexual transition. Sane people recoil in horror at the wretched adult lives ahead for these victims of Woke madmen running the  asylum. Anesthetized robots barely passing for human squeak and groan "Huzzah!"
SUPREMES-Different faces, still a Leftist Weird Sister act
WAR & PEACE: LENIN'S (and fellow Socialist HITLER'S) HEIRS
ORWELL-OBJECTIVE REALITY/TRUTH
THE GREAT RESET-The Clocks are striking 13? Can you live with this?
UPDATE 4/26/23: Societal suicide sold to us as progressivism. Not a good look.
THE POLITICS OF DEPENDENCY (and INDEPENDENCE)
GREEN MONSTER-Environmental Tyranny
ID/WOKE POLITICS, Obama's Permanent Civil War of Transformation
I'M A VICTIM! YOU'RE A VICTIM! EVERYBODY'S A VICTIM!
IAVT-I'M A VICTIM TOO! (Successful Black division)
BLACK LIVES MATTER…but only selectively to the race baiters.
UPDATE 4/23/23: The wisdom of knowing your enemy is lost on those Westerners denigrating Israel and apologizing for Islam.  
ILLEGAL IMMIGRATION/ OPEN BORDERS-Creating a Permanent Democratic UniParty Majority
UPDATE 4/27/23: Not like any other nation on earth, Israel is 75 and stands proudly alone with America. Both have thrived on freedom protected by law, not government controls and "democratic socialism." Recognizing the clear difference between her enemies and friends, the Jewish homeland's inevitable move from Left to Right over its lifespan has proven to be a matter of common sense and survival, not political whim. Despite a ceaselessly hostile world, Israel is THE miracle of modern times.
AMERICAN JEWRY-Brightest & Dumbest People On Earth
JEXODUS-Sensible Jews leaving the Dem Party
UPDATE 4/24/23: We're being told that we're all socialists now. The definition of "socialism" varies, but in current Woke terms, it's enforced equity…whether we like it or not OR whether such "equity" is even possible. Reality and truth are not quantities recognized in Socialist Wokedom, so force is a necessity.
THE LIBERAL MIND and THE DEMOCRATIC PARTY OF PROJECTION
UPDATE 4/25/23: Averse to frank truth-telling in firing its gutsiest journalists, Fox is now officially a (sinking) flagship of the mendacious MSM. 
4/30/23: Tucker Carlson's firing by Fox News and his response is a heartening sign that what truly matters in our political discourse is getting through to the masses. And what is getting through is panicking the Big Guys (including the Fox faux "conservatives") who control the flow of information. Telling the truth in America, now under severe attack, free speech itself, may have a bright future after all.
UPDATE 4/26/23: Reality vs. BrandonWorld. 
UPDATE 4/25/23: We're told the web of lies and corruption is unraveling, except the nasty old fool is still allowed to carry on one more day, one more week, one more month, one more year as if he's just a nasty old fool, not a lifelong liar and all-round lowlife grifter.
CLINTON (The Thing That Wouldn't Leave)
FAUCI and the curse of the "EXPERTS"
SUPREMES-Different faces, still a Leftist Weird Sister act