AMERICAN SPIRIT-Not just surviving but prevailing!
REPOSTED 4/9/23: FROM EASTER SUNDAY, 2013. 
A Victorian musical masterpiece as simple, dramatic and moving as its majestic 2100 year old source. This particular performance is all the more touching for the sincere catch in Stanford Olsen's fine tenor voice as this great Easter hymn approaches its climactic, heart-clutching moment:
"And once again the scene was changed,
New earth there seemed to be.
I saw the Holy City beside the tideless sea.
The light of God was on its streets, the gates were open wide,
And all who would might enter, and no one was denied!
No need of moon or stars by night,
Or sun to shine by  day:
It was the new Jerusalem that would not pass away!
It was the new Jerusalem that would not pass away!"
Yet another beautiful rendition of "The Holy City" by the great American tenor Richard Crooks.
Easter morning, 2013, as if on cue, the first daffodils open…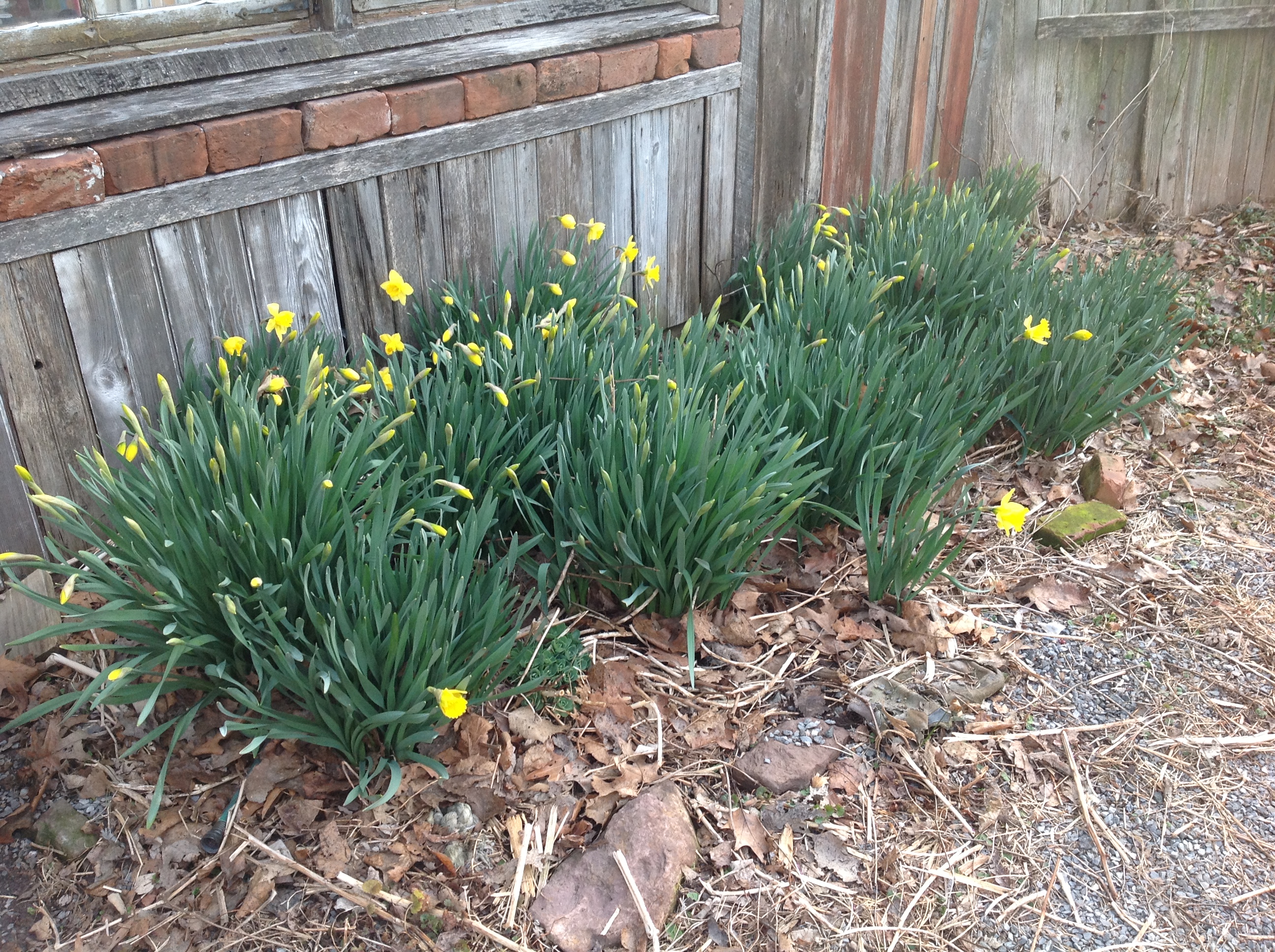 If a larger lesson for all faiths is to be drawn from an observance of Easter, it is contained in these words of Alexandr Solzhenitsyn: "Men have forgotten God; that's why all this [collectivist tyranny] has happened." Echoes William Penn: ""Those  people who will not be governed by God will be ruled by tyrants."
UPDATE 4/6/23: In San Diego, California still retains a bit of its golden glitter. 
UPDATE 4/5/23: The true meaning and significance of Passover-the celebration of liberty and the fight to preserve it-embodies the deep bond between Israel & America.
UPDATE 4/4/23: Trump's travails and his persecution is an assault on America and of her citizens. This rare, unforgiving character remains the obstacle between his persecutors and us. The level of hatred for him and specifically what he has actively promoted as President, say all one needs to know of his/our enemies and their rejection of those American guideposts, life, liberty and the pursuit of happiness. The perversion of our founding principles by the opposition Party and the spineless RINO refusal to stand behind them calls for some unifying re-Declaration of American ideals. 
Do any of them see or care about the consequences of this wanton wreckage, once only thought possible in tin pot Latin American or other Third World regimes? 
We have entered new, dangerous territory. Yes, it is happening here. 
The weakness and ridiculous content of the charges are a light at this dark tunnel's end, but what fearsome damage can be done by a few simple, repetitive lies.
One can be realistically optimistic that this "trumped-up" nonsense will not play while turning the tables on Democrat corruption should be easy if hard evidence of seriously illegal activity still matters in a court of law.
This is the stuff of totalitarian regimes. In Joe's case, it's a case of an embarrassing moral midget perversely longing to attain a place beside modern history's worst mass murderers.
MAKE AMERICA ACCOUNTABLE AGAIN (OPENTHEBOOKS.COM)
(In search of) AN AMERICAN MARGARET THATCHER 
UPDATE 4/7/23: Ignorance is bliss for those refusing to see the rot at the heart of our political process and the society it's supposed to preserve. This is old, discouraging news for those of us who know the problem is not the tyrants threatening healthy life but rather the blind, lifeless masses that deliberately, repeatedly put such bad actors in power.
UPDATE 4/6/23; They've managed to undermine faith in our medical system with the Covid catastrophe, and it's all systems go now to destroy confidence in our legal system by railroading the leader of the Brandon regime's political opposition.  Psychologically, Americans are fast finding themselves adrift on a sea of anarchy.
ELECTION FRAUD-America In The Balance
UPDATE 4/5/23: Hard to believe that New York City, once the glory of world culture, has become just one more filthy Democrat termite nest doing its part to eat away at American foundations.
JANUARY 6-Tyranny vs A Nation of a Trillion Sparks
PLANNED PARENTHOOD/SELLING ABORTED BABY BODY PARTS
MEMORIAL DAY AND D-DAY
CALIFORNICATION/DETROITING OF AMERICA
UPDATE 4/6/23: Chicago is jumping out of Lightfoot's frying pan into the full fire with their newly elected hard-Left mayor. Good luck with that, Windy City! Billie Sunday couldn't shut it down, but Saul Alinsky's descendants most certainly can.
Chicago pining for the good old days right after the Great Fire.
UPDATE 4/5/23: For progressive states like Maryland all gung-ho for DEI, California isn't Woke enough. 
UPDATE 4/7/23: What?! Big name colleges and universities like Stanford and Cornell are finally protecting free speech and practicing Tough Love on those delicate snowflake students demanding "safe places" and "trigger warnings" for anything the little darlings don't like. These administrations have taken some stand against recruiting and rewarding snitches and informants trained to report criminally unWoke activity having to do with "pronouns, transgenderism, microaggressions and proscribed language." Stasi stuff.
CLASSLESS, GENDERLESS, RACELESS, FAITHLESS-Erasing all defining lines
UPDATE 4/6/23: One can reasonably be worried about China controlling the manufacture of most of our medicines. 
Oh, and then there's Tik-Tok capturing the minds of the young. Will a moment come when Americans heed Trump's advice to stop this cancerous Chinese invasion and make doing business in America easy and profitable?
CORONACRAZED/MEDICINE COMPROMISED
UPDATE 45/23: Why suddenly the change in the Covid tune? Does ruining businesses, senselessly masking and vaxxing people and generally invading our free way of life not play well at the polls? Why now? Why not in 2020? 2022? Perhaps our masters have determined we are successfully programmed to roll over with the same ease again for the next lockdowns. Like it or not, people are different now and not in a good way.
That has been the whole idea.
MEDICAL HELP FROM  
     FRONT LINE COVID-19 CRITICAL CARE (FLCCC) ALIANCE
ASSOCIATION OF AMERICAN PHYSICIANS AND SURGEONS (AAPS) 
UPDATE 4/6/23: What if real scientists told us that Ivermectin is actually tailor-made for treatment of ailments like Covid?  Not just "horse de-wormer?" It's a crime yet to be tried that there has always been a cheap and readily available medication for what needn't have become a "pandemic."
For your own good, of course. 
THE TRANSGENDERING/OMNISEXUALIZING OF AMERICA
SUPREMES-Different faces, still a Leftist Weird Sister act
WAR & PEACE: LENIN'S (and fellow Socialist HITLER'S) HEIRS
ORWELL-OBJECTIVE REALITY/TRUTH
UPDATE 4/3/23: The upside down world just got more off-balance as the usual suspects come out sympathizing with the Trans community after the Nashville shooting.
UPDATE 4/2/23: Wonderland is getting very, very crowded as satire becomes reality and humor becomes VERY serious indeed. Some animals are indeed more equal than others in a newly "transformed" banana republic called Amerika. 
THE GREAT RESET-The Clocks are striking 13? Can you live with this?
THE POLITICS OF DEPENDENCY (and INDEPENDENCE)
GREEN MONSTER-Environmental Tyranny
UPDATE 4/5/23: "Global Warming"…I mean "Climate Change" is still about as believable as men having babies and choosing one's own gender. Like everything else they're pushing, the Left has no intention of solving any legitimate problems related to climate or the environment. Only the acquisition of power matters.
ID/WOKE POLITICS, Obama's Permanent Civil War of Transformation
UPDATE 4/6/23: Victor Davis Hansen goes to the heart of our current socio-political predicament pointing out the permanent civil war that began with the Trojan Horse "post-racial" Presidency of Obama. "They [the Progressive Left] are turning America toward a Balkanized war-of-all-against-all." 
The Obama legacy: the ongoing 21st century American Civil War.
When we're threatened with a scheduled "Day of "Vengeance" in response to an imaginary "Trans genocide," things have moved beyond mere words. 
I'M A VICTIM! YOU'RE A VICTIM! EVERYBODY'S A VICTIM!
IAVT-I'M A VICTIM TOO! (Successful Black division)
BLACK LIVES MATTER…but only selectively to the race baiters.
ILLEGAL IMMIGRATION/ OPEN BORDERS-Creating a Permanent Democratic UniParty Majority
AMERICAN JEWRY-Brightest & Dumbest People On Earth
UPDATE 4/5/23: A hefty portion of Israeli Jewry are proving themselves as dumb as their American counterparts, killing their friends, hailing their enemies.
From Carter thru the Clintons, Obama and now  Biden. 
JEXODUS-Sensible Jews leaving the Dem Party
THE LIBERAL MIND and THE DEMOCRATIC PARTY OF PROJECTION
UPDATE 4/5/23: No one is above the law? Ha! No one except those leading figureheads in the Democrat Party ( Biden, Obama, the Clintons, Kerry, Pelosi) who consider themselves gods and beyond those tiresome laws constraining the rest of us mere humans.
UPDATE 4/7/23: Better than 1000 words.
CLINTON (The Thing That Wouldn't Leave)
FAUCI and the curse of the "EXPERTS"
SUPREMES-Different faces, still a Leftist Weird Sister act
WEEDS IN THE AMERICAN GARDEN OF FREEDOM
UPDATE 4/7/23: Philadelphia Mayor Kenney continues to be just one more typical big city political machine drone highly selective in what gets his attention…and funding.